Cost of Entry: Legal Cannabis Delivery (Prop. 64)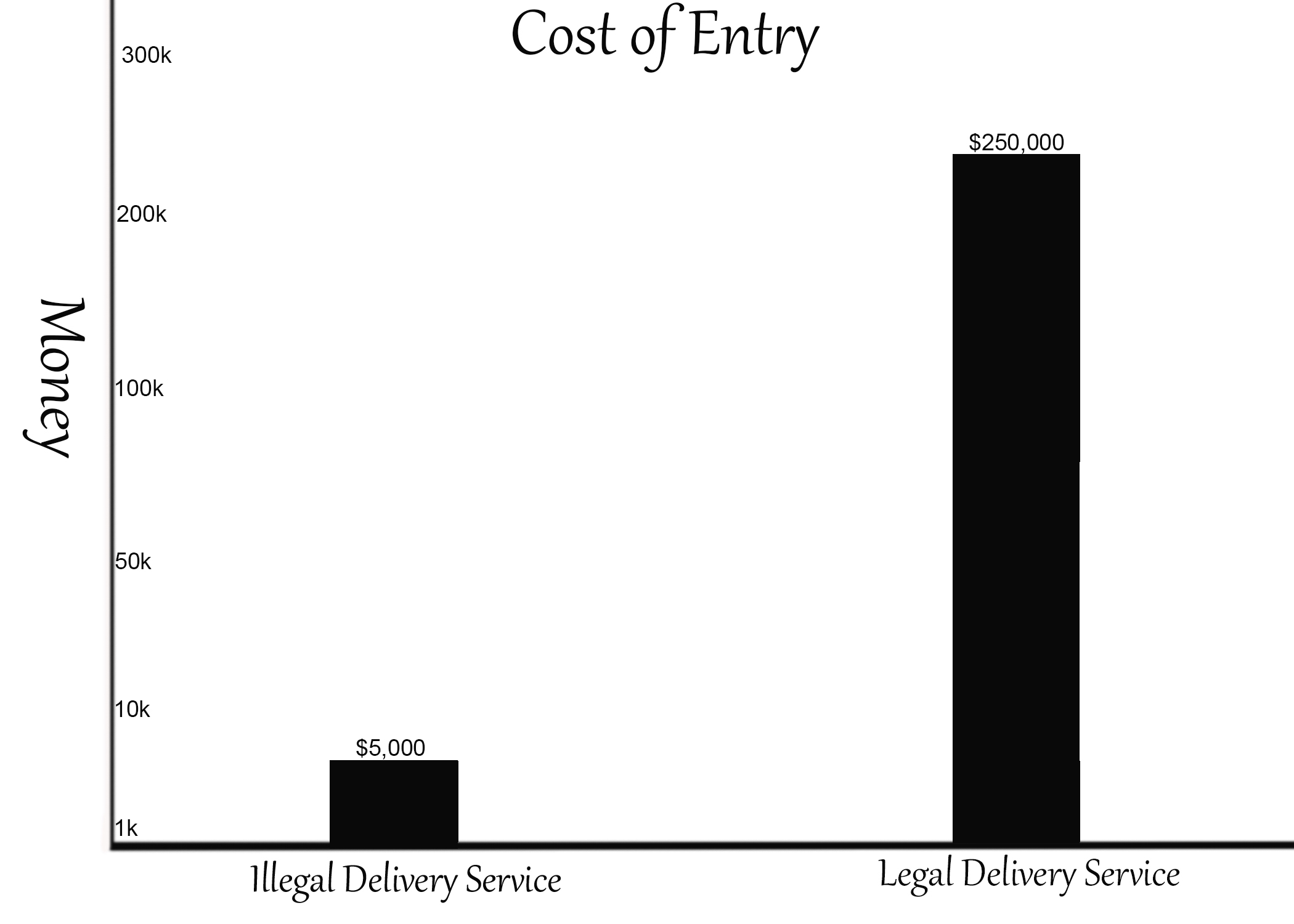 I own and operate a mobile delivery service in Sacramento, Ca. I am constantly asked what it cost me to get the delivery service started in the new legal market. I will discuss the permit costs, challenges and hidden costs you can expect to run into. I was lucky enough to have owned a dispensary in 2017 before Prop 64 laws were in place. In 2017 I ran a mobile delivery service in Chico, Ca. I literally paid a lawyer $5,000.00 to draw up paperwork for a nonprofit, fictitious name statement, file for a seller's permit and do the meeting/minutes of the corporation. Other than that, I paid Weedmaps to post my menu and I bought a domain name (www.organiccareofcalifornia.com). Maybe $6,000 Tops to start the company not counting product. Legal market, not as fast, cheap or easy. It's a very complicated process to get awarded legal Prop. 64 license. I thought I was going to simply stay in Chico and get an inexpensive permit there and then branch out. Instead Chico banned all commercial and medical sales in the city. Worst, the county had no plans to legalize either. So, December 31st, 2017 we had to close our nonprofit medical delivery service in Chico to not risk prosecution as an illegal club.
Sacramento had just passed laws and started to accept applications in early 2018. In Sacramento they also put a limit of 50 delivery service permits for the whole Power Inn Alliance green zone (Green zone - Geographic location allowed to do cannabis related businesses. Cannabis businesses can ONLY be inside of that area.), which made the license rare and valuable. In order to apply for a license, I first had to find a building with a CUP (Conditional Use Permit), Which is a permit given to the building itself that allows it to do a specific type of cannabis business.
I specifically wanted to find a place approved for a delivery service CUP or a building approved for a different CUP that I could reapply and change to a delivery service. Or find a building that meets all the criteria for a CUP. Meaning it's not within 600ft of a school or daycare, Not within 1,000 ft of a residence and multiple other things. So usually you must pay a consultant or lawyer to make sure everything is in order and correct before you start paying rent. I suggest never just thinking something is ok, always check and don't waste your money. $5,000-$10,000 just to write the CUP. Then you must pay for the CUP application itself. You must pay rent the whole time you write the paperwork, apply and while you wait for the permit. Rent is usually $2.00-$3.50 a sq ft in the cannabis market. Each month you wait, and it took over 8 months for me to get mine. 8 * ($3,000 a month) = $24,000 spent waiting. After Sacramento looks at your CUP you have a public hearing you also must go to, where anyone that works within a 1,000 ft gets to say if they agree or have a problem with your business being there. Finally if you pass you now have to apply for a BOP (Business Operating Permit) which costs $10-20,000 to write up and cost me $27,000 to apply based on my sq footage, license type, and being in Sacramento, since all counties are different prices. There is also a stat

e permit which you must reapply each year.
State permit fee is based off the amount of gross income you think you're going to make. If you make $750- 1 million its $7,500, 1 to 2 million is $22,500 a year and you pay it before you make a single sale. Also, if you don't make the amount you thought you were going to, you don't get any money back at all. The whole process usually takes 8 months to a year or longer to get from paying rent to being awarded a state permit. That's over $75,000 and doesn't even count other things needed to legally operate.
The POS system that has to be metric compliant ($1-2,000 starting & $400-$700 per month), Camera System (Starting $20,000 & $500-$1,000 per month), Insurance (Property, General Liability, Bond, Product insurance, Through put insurance, car insurance & workers comp.) Which all must be paid for before even applying and paid continuously during the application process. I also had to change the interior of the building to meet BCC specifications which was well over $40,000 the first time. I spent $250,000 the second time I had to meet regulations by building a whole garage to enclose my drivers. After that wasn't a requirement the whole first year I was operating. I am very happy I am legal, and I love my job, but I am also in debt and work more than I ever have. It is a blessing to be a part of the legal movement, but I never would have thought I could tell you that I spent over $500,000.00 making my company legal. If I planned everything perfectly and when I open another delivery center, I think I could get the costs to lower to around $150,000 to $200,000 to get the state permit awarded to me. Yet, that's also what I thought about the Sacramento permit LMAO! These costs are specific to my size operation and being in Sacramento County. My building is very small, and Sacramento is very cheap and fast with applications compared to other cities and counties so far. It may be way more expensive and please don't risk your future on these numbers. Talk to a consultant, lawyer or e mail me and I'll try and help. The costs also don't include Weedmaps, marketing, CPA, cars, website, products, safes, or anything else. Basically, just the cost of the building meeting the requirements for a permit and the permit itself. (A fucking piece of paper! Lol But it lets you sell WEED!)



Costs:
?Look Up Structures and make sure they fit CUP conditions

$1,000.00

?Rent Building to be able to start CUP application

Per Month

$2,500-$4,000

?Rent 8 to 12 months if not more

?$32-$50,000

?Writing CUP Application

$5,000-$10,000

?Applying for CUP

$3,000-$10,000

?Writing BOP Application

$5-$10,000

?Applying for BOP

$27,000-more

?Writing State permit application

$5

-

10,000

?Applying for state permit: Based on income projections

$7-25,000

?Insurance (Car, General, product, workers comp, etc.)

?

$15-$20,000

?Camera and Security Requirements

?

$20-$45,000

?Pos System (Metric Compliant)

?

?$2-$3,000

?




?

??($125,000-$250,000) If not more!

?

Written By:
Chaz Cornellier
founder, operator and C.E.O. Organic Care of California